Commercial Cleaning We clean businesses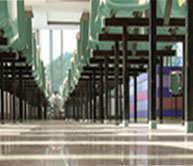 Every first impression counts, but realize that every impression holds just as much value as the first. We continually guarantee a Wright Touch first impression that will last with every impression. We understand the responsibility given to us by our client to keep their offices looking better than the last. We dedicate ourselves to making sure that every office becomes a beaming workplace for our client. With our cleaning and maintenance services, we offer specific cleaning routines, detail every office to look its best and provide each client the trust and confidence they need with a cleaning service. The Wright Touch has created lasting first impressions, but it is the consistency of our employees that continue to maintain that Wright Touch with every impression.
The process of our Commercial Cleaning:
Receive an estimate from The Wright Touch owner after first tour of the building and its grounds.
The Wright Touch will then create a proposal for the client to review.
The Wright touch will meet and present the proposal to the client.
After reviewing and agreeing on the contract and signing, we will set a start date.
The Wright Touch will request keys, access codes, emergency information, and all other entry information from the client
Services Provided:
Trash
Clean Restrooms
Vacuum
Windows
Sweep
Dust high/low places
Mop
Restock Restrooms
And More!